Regular price
$149.99
Sale price
$119.99
Unit price
per
20% off
Sold out
✅ 67 Layers Japanese Damascus Steel
✅ Perfectly Balanced
✅ Full Tang
✅ Lifetime Warranty
ONYX II PRECISION PERFECTED, STYLE REDEFINED

Introducing the Onyx II Series – a refined and enhanced iteration of our beloved Onyx collection. This upgraded series combines elegance and performance, delivering a cutting-edge culinary experience.

Key Upgrades:

Superior Steel: Elevating your culinary precision, the Onyx II features a steel upgrade from 1095 high carbon steel to Japanese Damascus steel with an SLD Mold Tooling Steel core. With a remarkable blade hardness of 62-63HRC, expect nothing but excellence in every cut.

Modern Handle: Redefining comfort and style, the Onyx II showcases a sleek transition from Ebony wood to a modern Black G10 handle. This ergonomic upgrade ensures a comfortable grip, allowing you to wield your knives with finesse.

Artistic Sheath: The Onyx II Series comes complete with a striking full art Damascus sheath, seamlessly marrying form and function. This complimentary addition ensures your knives are not just tools but works of art, deserving of a special place in your kitchen.

Luxurious Packaging: Elevate the unboxing experience with our new full art packaging. The Onyx II knives are presented in a packaging as exquisite as the blades themselves, making it a perfect gift or a treat for yourself.

Unleash the culinary artist within you with the Onyx II Series – where sophistication meets cutting-edge performance.
BLADE SPECIFACTIONS

Material: 67 laysers Japanese damascus steel with Hitachi SLD mold tooling steel core, blade hardness :62-63HRC

8 Inch Serbian Cleaver
Length: 8 inch / 20 cm
Width: 3.7 inch / 9.6 cm
Thickness: 0.8 inch / 2 mm
Hardness - HRC62-63

Handle:
Material: Fortified Black G10
Length: 4.7 inch / 12 cm
Full Tang

Free:
Full-Art damascus print cotton sheath.
WARRANTY & GUARANTEE

Here at the cooking guild we are so confident in our products we offer the following completly FREE of charge with every purchase.

Try our knives risk-free with our 30-day, no-questions-asked returns policy.

All of our knives come with a lifetime warranty against all manufacturing defects.


View full details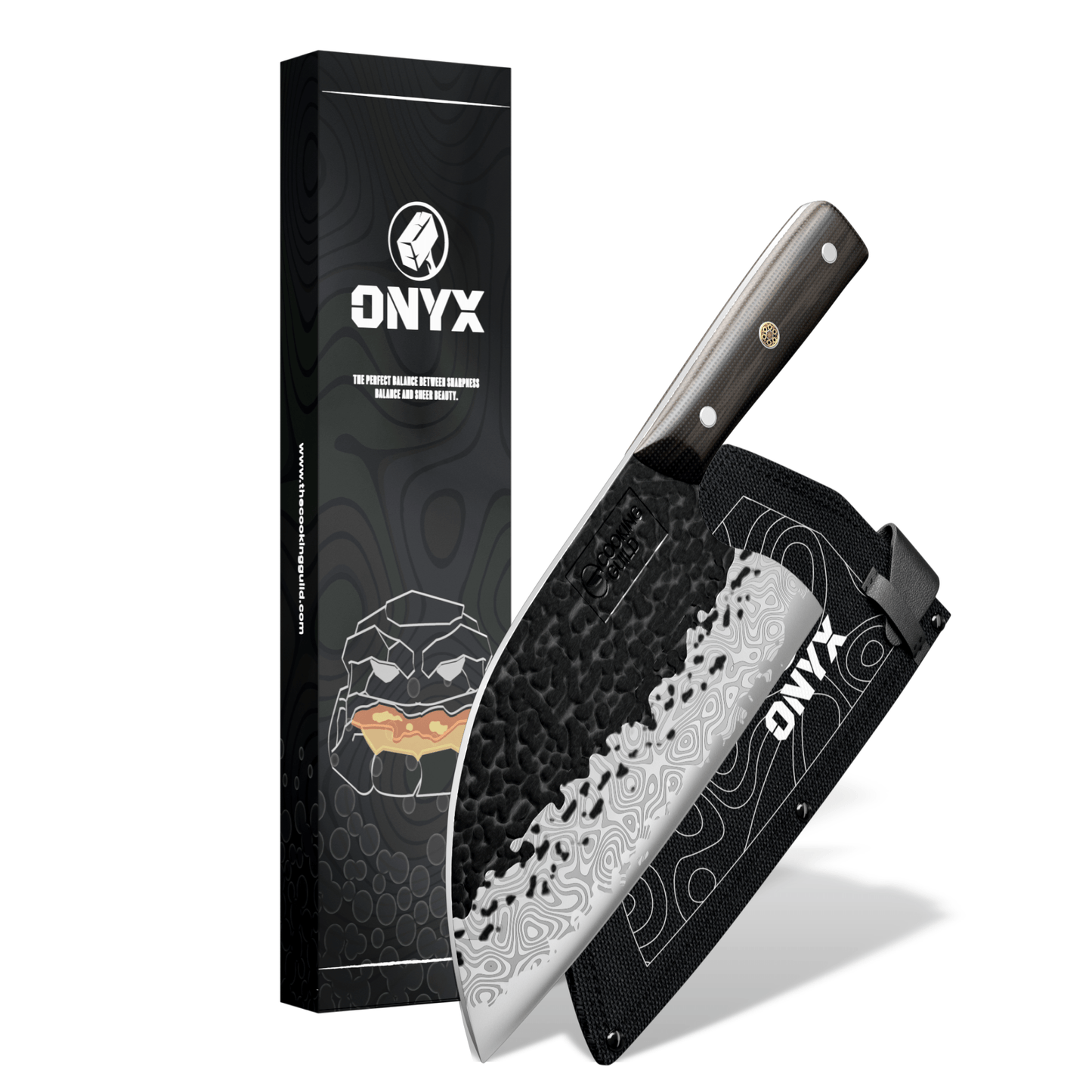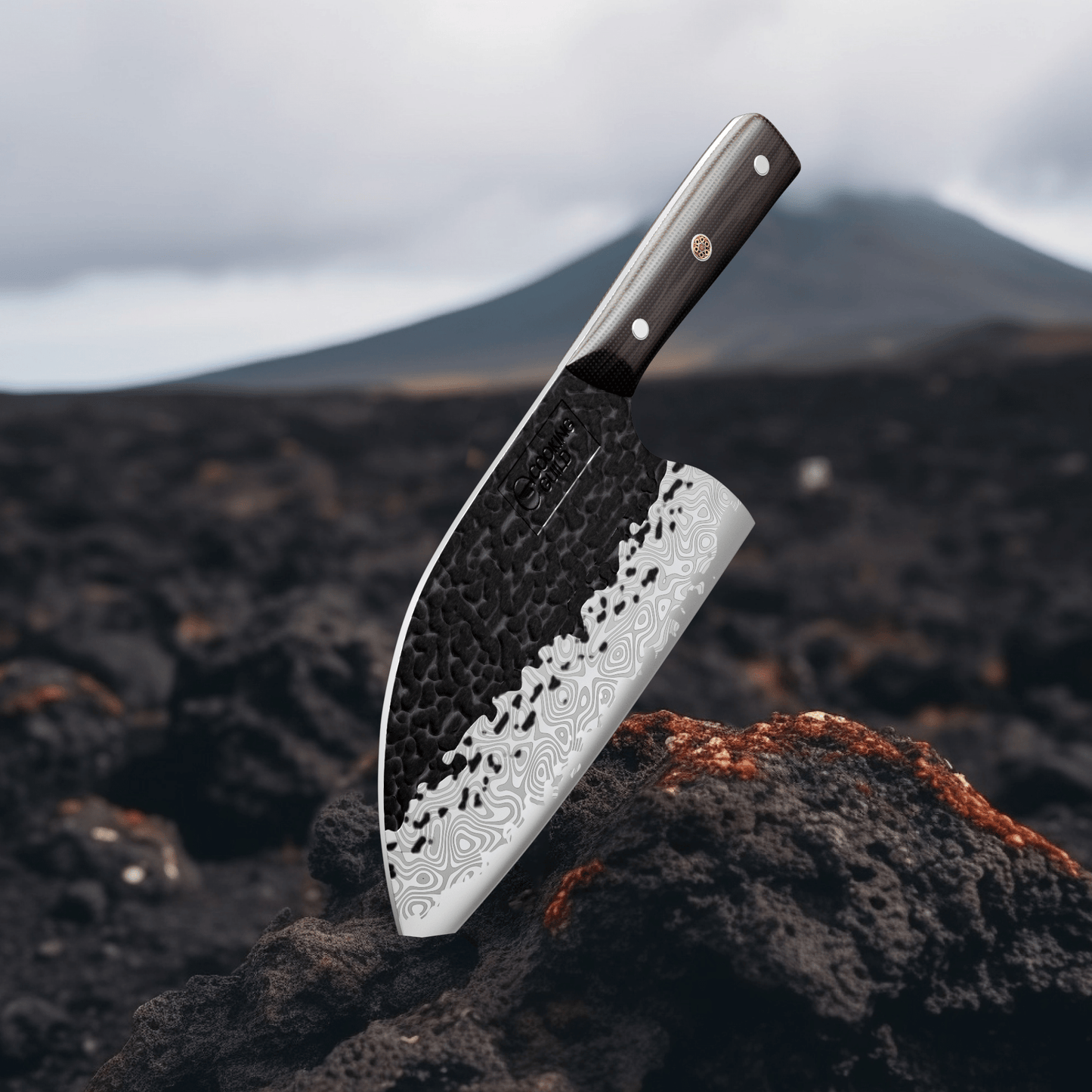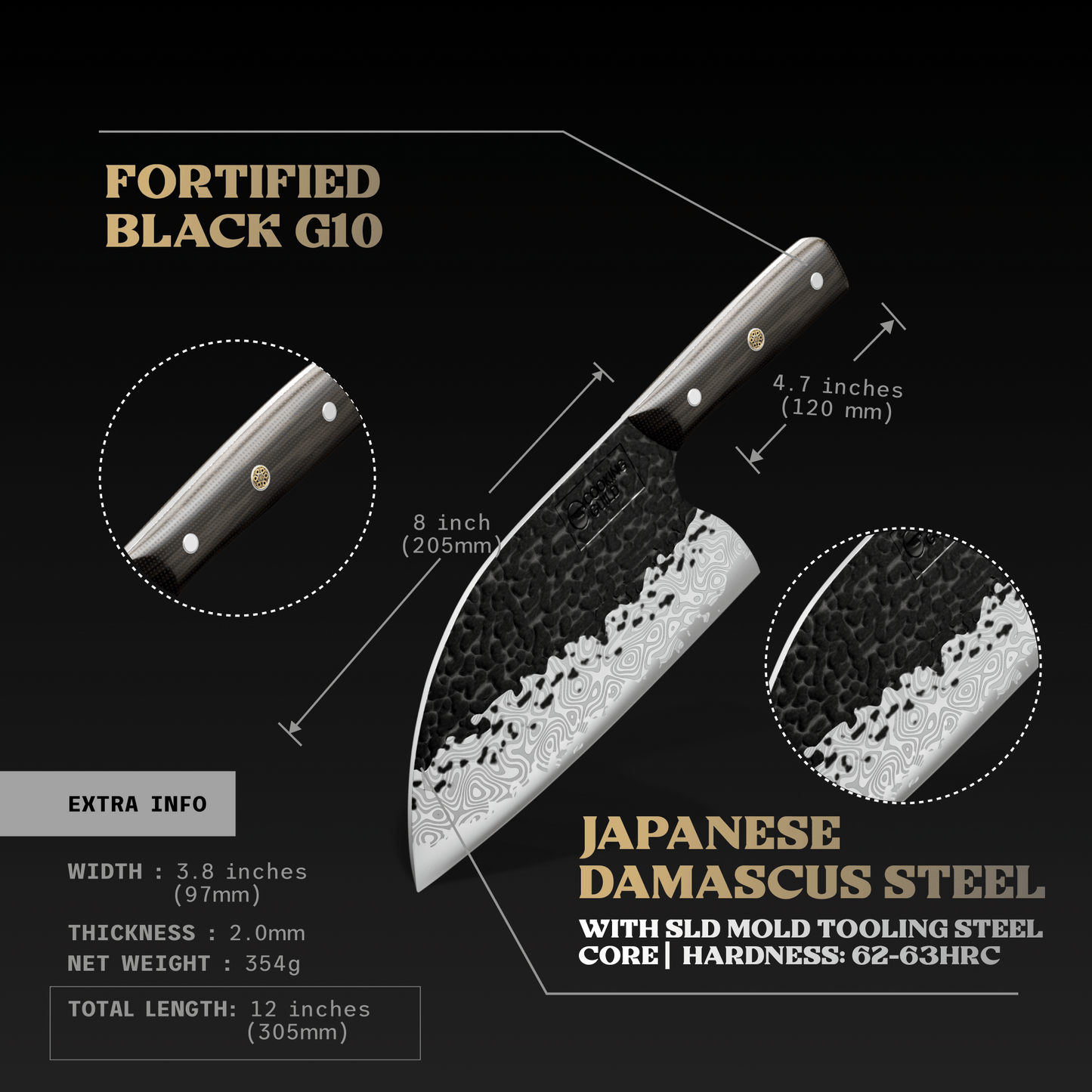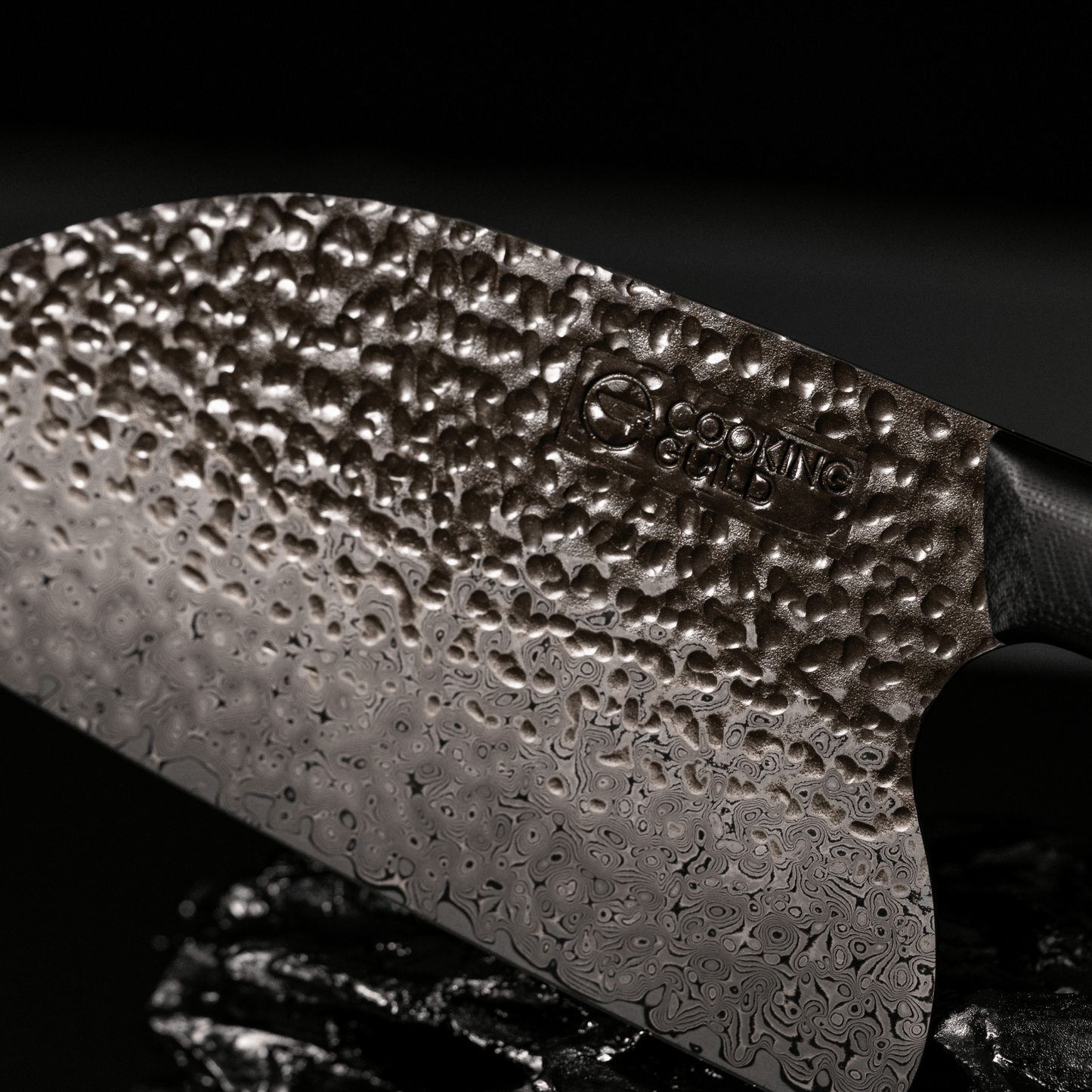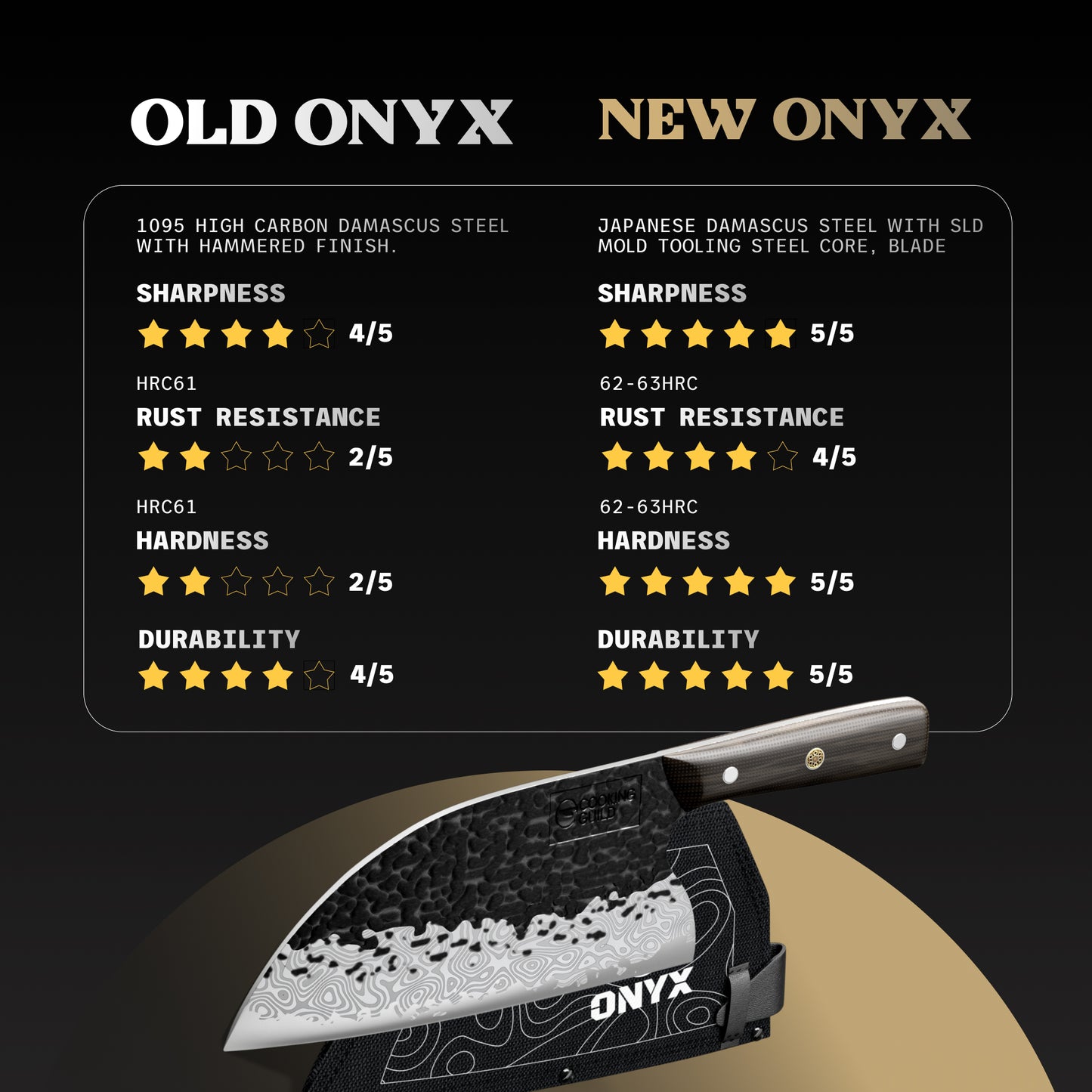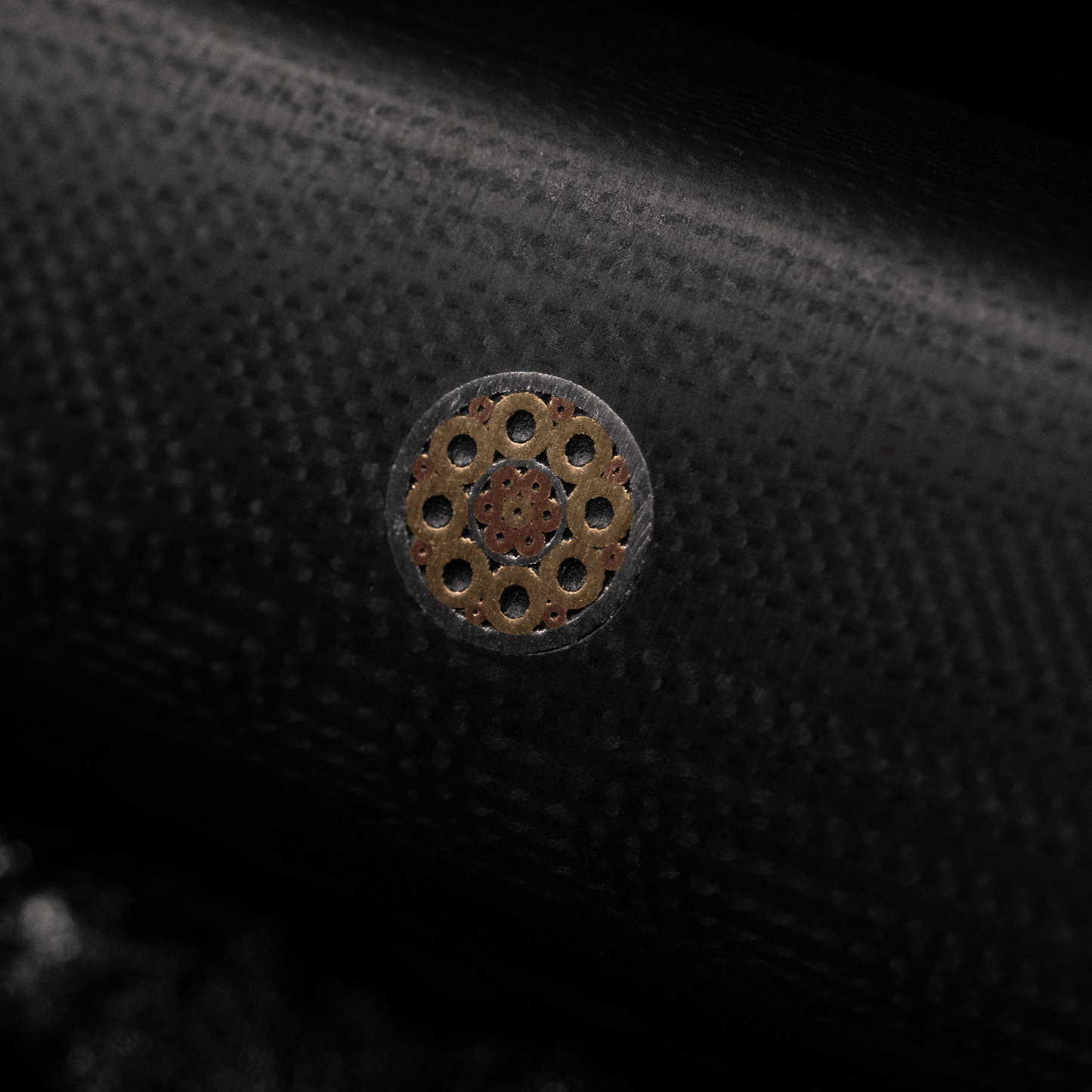 "I started using the cooking guilds knives and fell in love with them. "
Chef Michael Symon - Iron Chef America
FAQs
How are the knives made?

Each one of our knives are made by professional blacksmiths in China with more than 20 years of experience.
Why are sharper blades safer?

It may sound counterintuitive, but dull knives are actually more dangerous than ultra-sharp blades… in fact, the sharper the better! That's because a dull blade requires more pressure and strength to make a cut, which means there's a bigger chance the knife will slip and you'll cut yourself. A sharp knife makes easier, more accurate cuts, and is less likely to slip.
How exactly do I clean these knives?

Hand wash only. NOT DISHWASHER SAFE. After every use, hand clean with warm soapy water and dry with a towel
When can I expect my order?

FAST! We ship all orders within 24-48 hours of receiving them! On average our product is delivered within 3-5 business days in the United States. International shipping times will vary depending on country/customs etc..
Will I have to pay any additional customs, duties or VAT fees when I receive my order?

Depending on your country, it is possible that you will be charged one or more of these fees when you receive your order.

Please note that all international orders are charged in US dollars. International charges are based on the standard exchange rates between your currency and the US dollar at the time of purchase or refund.
Will you notify me by email when my order has shipped?

Yes, we will send an invoice by email when your order has been placed and another when your order has been shipped.

If you can not find our emails in your normal inbox, it is worth checking in your spam or junk mail folder.
Read Our Customer Reviews
ONYX II Damascus Serbian Cleaver