Skip to product information
+ 2 Free Ebooks for the perfect Cooking
Regular price
$239.98
Sale price
$215.98
Unit price
per
10% off
Sold out
✅ Perfectly Balanced
✅ X70Cr17MoV Stainless Steel
✅ Burl Wood and Deep Sea Epoxy Handle
✅ Rust Resistant
✅ Extremely Sharp
✅ 30 Day Money Back Guarantee
✅ Lifetime Warranty
✅ Fast Shipping
✅ 24/7 Customer Support
THE ADVENTURE OF THE NOMAD SERIES

The Nomad series is the perfect knife set for anyone who appreciates the beauty of nature and wants to bring those elements into their kitchen.

Hand-forged in fire with X70Cr17MoV stainless steel, the blades are engraved with a design to look like a mountain range. And just like those majestic peaks, the Nomad Knife series is strong, stable, and perfectly balanced. Representing where water meets earth, the handles are made from a fusion of mountain burl wood and deep sea blue epoxy resin and finished with the Nomad Series logo. Feel as the air enters the slipstream as the knives glide along the chopping board, making slicing and dicing a breeze.

The K2 is the perfect way to start your collection. Featuring all of our Nomad Chef Knife and Honing Steel blades.
BLADE SPECIFACTIONS

Handle material - Stabilized burl wood and deep sea epoxy.

Blade Material - X70Cr17MoV stainless steel.

Chef Knife Specifications:
Handle length: 5 inch / 12.5 cm
Blade length: 8 inch / 20.3 cm
Blade width: 2 inch / 5 cm
Blade thickness: 0.2 inch / 0.25 cm
Total length: 13 inch / 33 cm

Honing Rod Specifications:
Rod Material: 65-67HRC high carbon steel coated with Chrome
Rod Length: 10 inch / 25.4 cm
Rod diameter: 0.5 inch / 1.3 cm
Handle: 4.9 inch / 12.4 cm
Total Length: 14.9 inch / 37.8 cm
WARRANTY & GUARANTEE

Here at the cooking guild we are so confident in our products we offer the following completly FREE of charge with every purchase.

Try our knives risk-free with our 30-day, no-questions-asked returns policy.

All of our knives come with a lifetime warranty against all manufacturing defects.


View full details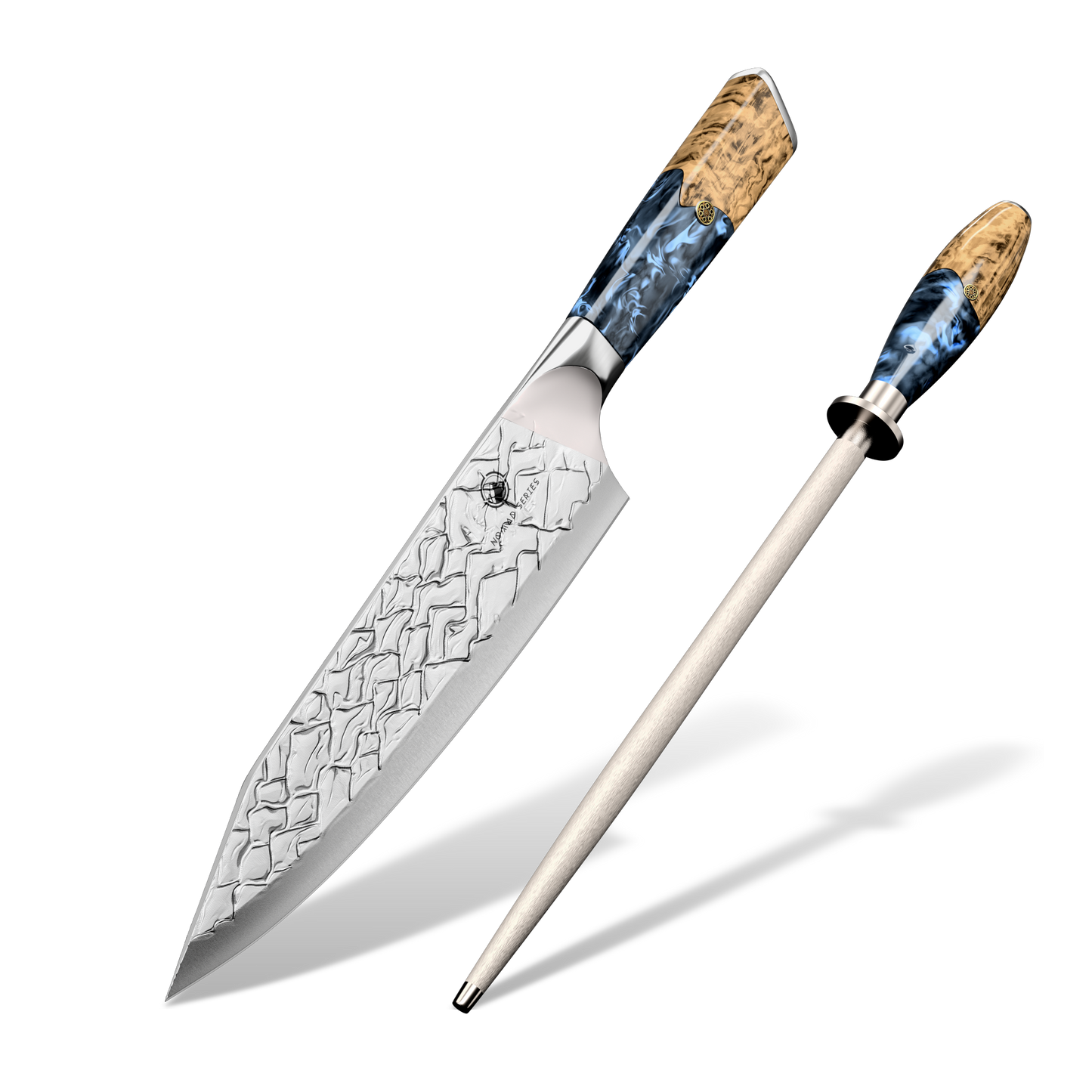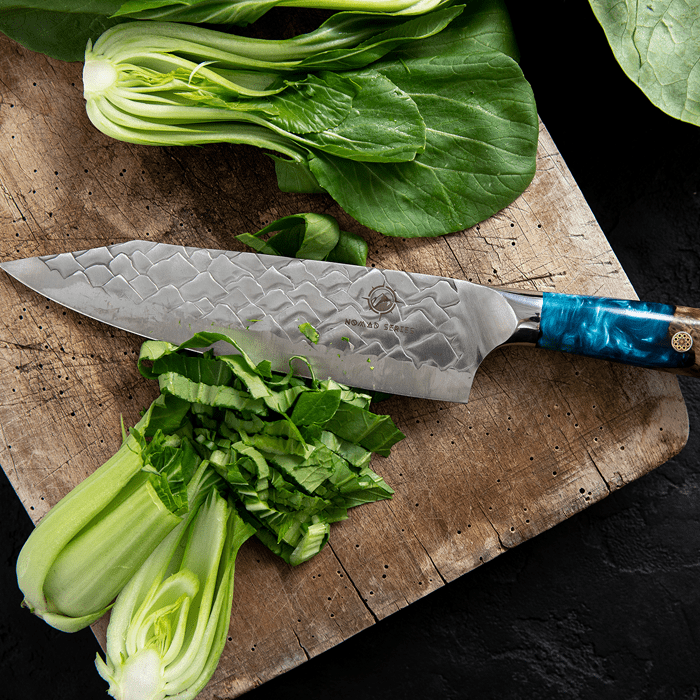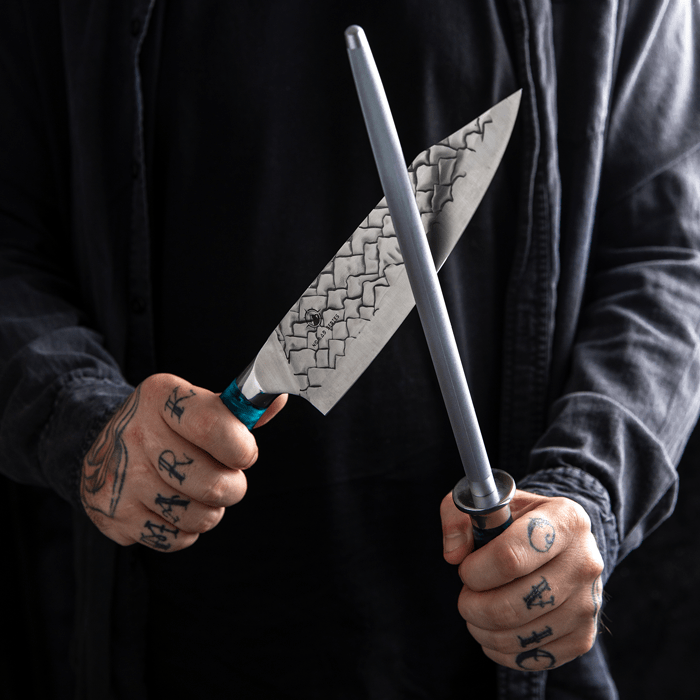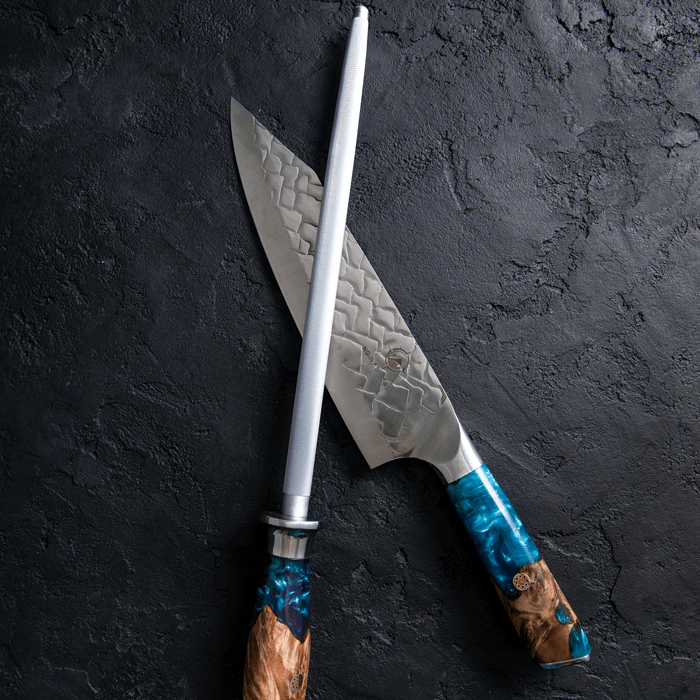 "I started using the cooking guilds knives and fell in love with them. "
Chef Michael Symon - Iron Chef America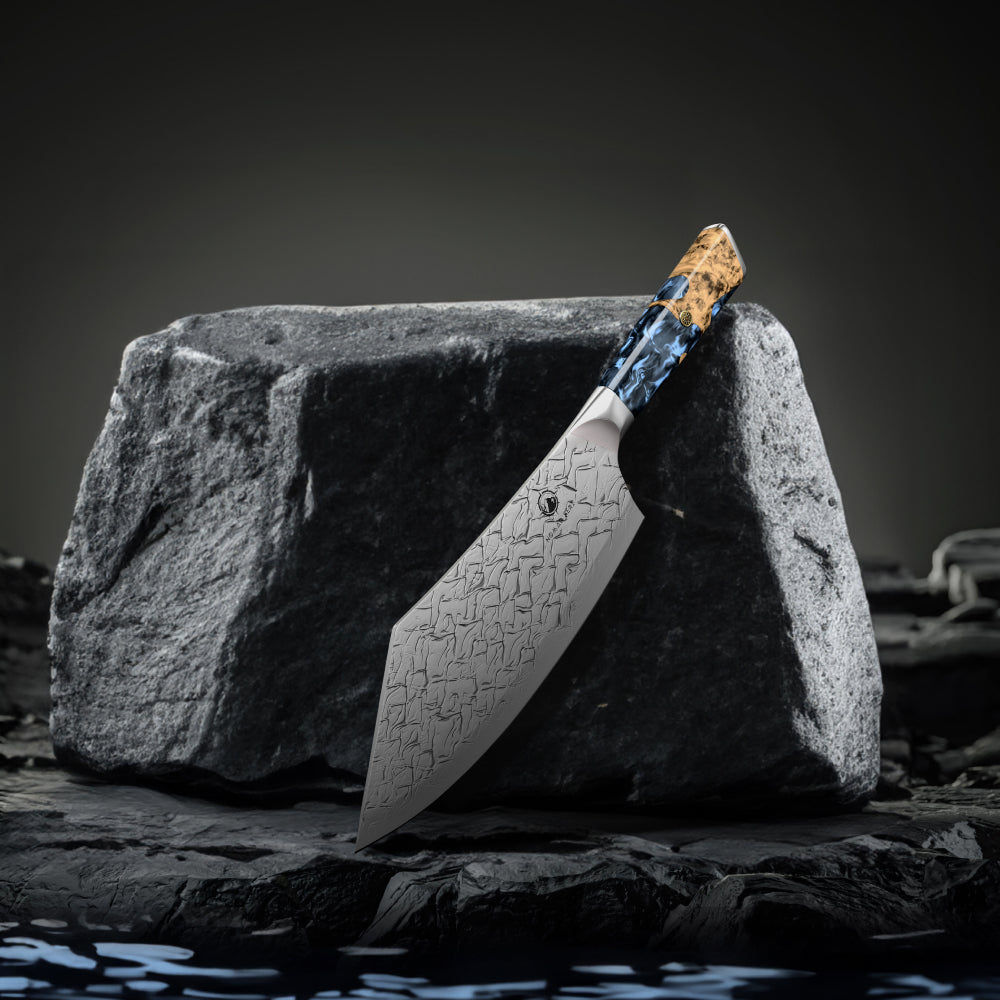 Craftsmanship You Can Trust
Your Nomad knives will be the last you ever need — or want — to own. 
Each Nomad knife is hand-forged using premium X70Cr17Mov Stainless Steel offering excellent edge retention and resistance to corrosion and rust.
More importantly, they feature a blade edge so sharp that it always feels like you're cutting through butter — no matter what you're slicing!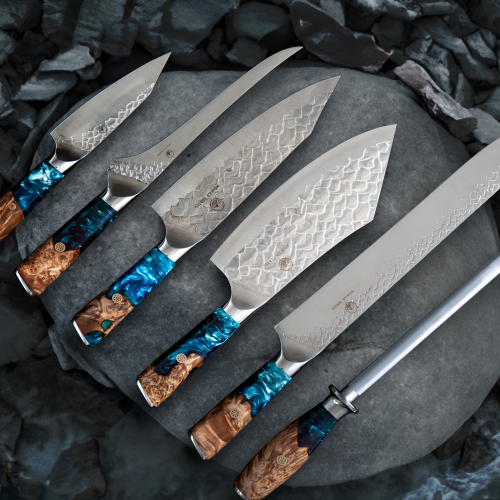 Beautiful Burl Wood Handles
The steel isn't the only eye-catching element in a Nomad knife… the burl wood and deep sea epoxy handle adds a touch of elegance that will make guests gasp!
FAQs
How are the knives made?

Each one of our knives are made by professional blacksmiths with more than 20 years of experience.
Why are sharper blades safer?

It may sound counterintuitive, but dull knives are actually more dangerous than ultra-sharp blades… in fact, the sharper the better! That's because a dull blade requires more pressure and strength to make a cut, which means there's a bigger chance the knife will slip and you'll cut yourself. A sharp knife makes easier, more accurate cuts, and is less likely to slip.
How exactly do I clean these knives?

Hand wash only. NOT DISHWASHER SAFE. After every use, hand clean with warm soapy water and dry with a towel
When can I expect my order?

FAST! We ship all orders within 24-48 hours of receiving them! On average our product is delivered within 3-5 business days in the United States. International shipping times will vary depending on country/customs etc..
Will I have to pay any additional customs, duties or VAT fees when I receive my order?

Depending on your country, it is possible that you will be charged one or more of these fees when you receive your order.

Please note that all international orders are charged in US dollars. International charges are based on the standard exchange rates between your currency and the US dollar at the time of purchase or refund.
Will you notify me by email when my order has shipped?

Yes, we will send an invoice by email when your order has been placed and another when your order has been shipped.

If you can not find our emails in your normal inbox, it is worth checking in your spam or junk mail folder.
Read Our Customer Reviews